CPO Perspective on Q1 Earnings
Off to a great start to 20/21! Ana Elena shares her thoughts on Q1 results and priorities for Purchasing and our Partners.

External Business Partners,
Last week, P&G released earnings for the first quarter of the year, and I am proud to say we are off to a very strong start to the year! The results are a testament of our integrated strategy – a portfolio of high-performance Brand; Superiority in products, packages, consumer communication, retail execution and value; Productivity; Constructive disruption and a more Agile, Accountable and Empowered organization. Importantly, these results were possible thanks to your commitment to P&G's business and operations. You enabled P&G to be a Force for Good and a Force for Growth by Protecting our Employees, Serving Consumers with health and hygiene products, and Supporting Communities. A big and heartfelt thank you.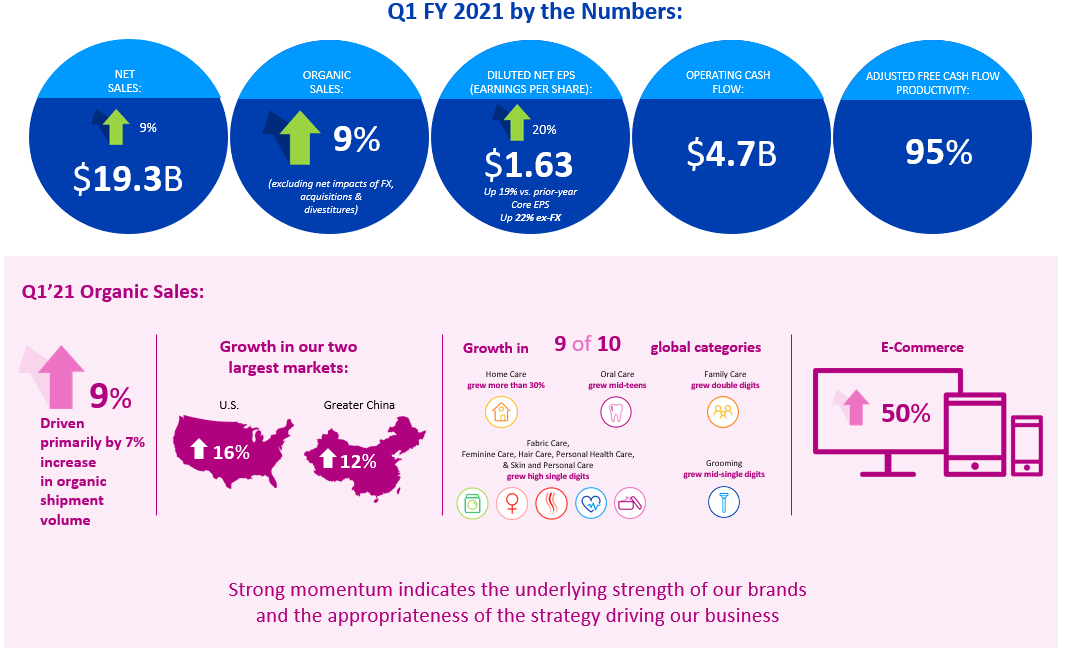 I encourage you to review our press release for a detailed summary of our performance for the 1st quarter of FY20/21.
In order to maintain and accelerate the momentum of Q1 there are a few things I would like to draw your attention to:
eCommerce: We are experiencing significant growth in this channel and we expect this trend to continue across all regions, creating a unique set of challenges for our supply chain. From product to packaging to speed and quality of service, our customers and consumers will continue to demand the best of us. We need to increase our agility and responsiveness in order to support the accelerated growth of this channel.
COVID19: Unfortunately, cases are increasing in many parts of the world suggesting a second COVID wave that will put additional stress on our supply chains. We cannot relax. We must continue to work together to gain strength and improve resiliency in our end-to-end operations.
Cybersecurity: In September, Kostas and I shared some of our concerns related to Cybersecurity. Incidents within our supply base are on the rise, highlighting the new frontier of risk management. Please remain vigilant and take the necessary steps to protect your operations and ours.
Force for Good: We remained committed to our Force for Good strategy to support the communities where we operate and live. In August, I shared some of the work we are doing at P&G to tackle the racial issues in the US and other parts of the world see Take on Race. I hope this inspired you to build an Equality and Inclusion strategy for your business, if it didn't previously exist. By expanding access, opportunity and investment to diverse Suppliers, the economic wealth and purchasing power of the communities where they operate increases, translating into business growth for all of us. I believe that together, we have an increasing responsibility and the opportunity to leverage our entire Supply Ecosystem to be a driving Force for Good and a Force for Growth.
I am energized by our Q1 results and FY guidance! I hope you share my enthusiasm for what we were able to do together while recognizing that we still have work to do and we will continue to face new challenges. Thanks for everything you have done and your continuous commitment to our business.
In closing, I ask you to protect each other. Be safe and healthy.

Ana Elena Marziano
P&G Chief Purchasing Officer
See https://www.pginvestor.com/presentations-events/ for P&G's full Q1 2021 earnings release issued October 20, 2020, the associated webcast presentation, definitions of non-GAAP measures and reconciliation to the most closely related GAAP measure, as well as cautionary information on forward-looking statements, which are based on current assumptions and subject to risks and uncertainties that may cause actual results to differ materially. 
Oct 27, 2020