CPO Perspective on 19/20 and 20/21
As we enter the new fiscal year, I wanted to take the opportunity to reflect on 19/20 and share my thoughts about the opportunities and priorities for the new year.
External Business Partners,
As we enter the new fiscal year, I wanted to take the opportunity to reflect on 19/20 and share my thoughts about the opportunities and priorities for the new year.
To say that the last months were filled with unexpected challenges for all of us would be an understatement. Despite unprecedented and multidimensional challenges, I am proud of the resilience of our supply ecosystem. A huge thanks to you and your organizations for the commitment, agility and diligence you demonstrated each and every day. It is through your partnership that our operations stayed open, our employees were safe, and our consumers' needs were fulfilled with health and hygiene products they need every day. Together, we met our commitment to be a Force for Good and a Force for Growth, by protecting our people, serving our consumers and supporting our communities.
Our 19/20 results are evidence of what we can achieve together. I encourage you to review P&G's results for a detailed summary of our 4th quarter and end of the fiscal year performance.  The results are worth celebrating!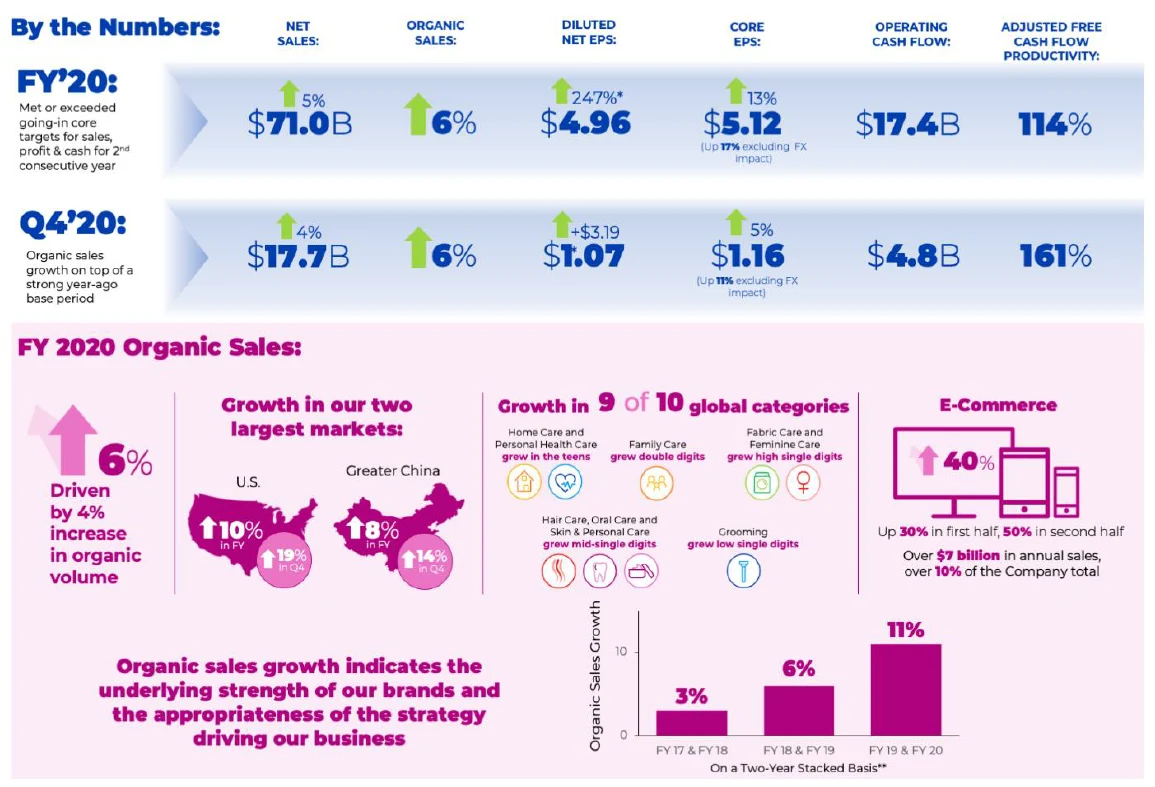 We now must focus on FY20/21 and beyond. This will be another challenging year, full of uncertainty marked by COVID19, geopolitical unrest, commodity swings, volatile trade agreements and market recession, among other factors and events. However, there is one thing for which I am certain: You - our Partners - and P&G will work together and will turn challenges into opportunities. During my few months as the Chief Purchasing Officer I have been both impressed and encouraged. In the face of constant change, I see flexibility, dedication, engagement and positivity throughout thesupply chain. There are countless examples of people challenging themselves and their organizations to do better and be better. Said simply, I see clear testaments of Growth Mindset – which will be a key to success in the times ahead.

I am counting on all of you to continue helping us deliver and win again in FY20/21. Your relentless efforts to drive out unnecessary cost, generate cash efficiencies, create impactful and responsible advertising campaigns, and develop solutions and ingredients that enable irresistible superiority, continue to be essential. In addition, we need a rapidly growing focus to accelerate Citizenship compliance of our products and supply chains. I also rely on your leadership and inspiration to help develop and deliver sustainability breakthroughs and to embrace an unconditional commitment to Equality & Inclusion. We must all be a Force for Good, and a Force for Growth. The recent announcements of our ambition to become carbon neutral, as well as our "Take on Race" initiative are just two examples of the efforts that we hope you amplify throughout the supply ecosystem.

In closing, I want to thank you again for your contributions and resilience. I know last year was rewarding and exhausting. The pace at which we are all working is like nothing I have seen before. I ask that you and your teams make time to really disconnect and recharge. It is imperative that we care for and support all of the men and women in our supply network. I thank you for your commitment in doing so.

I am confident this will be another challenging but successful year and I look forward to engaging with you.

Ana Elena Marziano
P&G Chief Purchasing Officer
Aug 03, 2020