International Women's Day and P&G's Gender Equality Efforts
There is so much to celebrate and so much more we can do together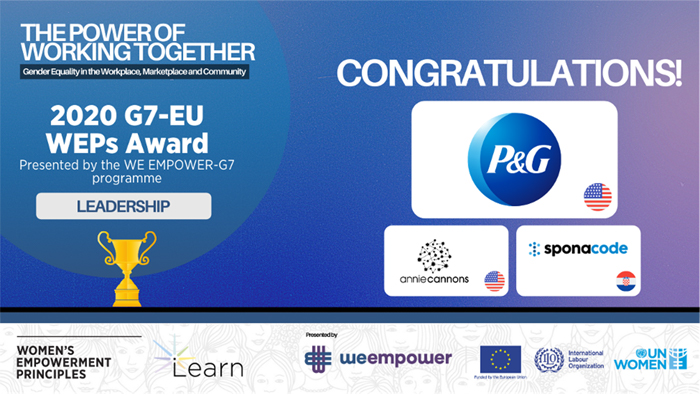 External Business Partners,
Throughout the month of March, P&G is celebrating Equality & Inclusion.  Given March 8th is also International Women's Day, I wanted to focus this month's message on P&G's efforts to increase spending with women-owned (WO) and women-led (WL) businesses across our value chain, as well as our investment in women's economic empowerment (WEE). Personally, being the first female to reach the Chief Purchasing Officer level, carries immense pride and responsibility to make a step change in this area.
P&G's successful supplier diversity program, established over 40 years ago, has delivered more than $1 billion of annual spending with WO businesses. Through our intentional efforts to broaden our program globally, we now have aggressive targets focused on growing our spend with WO and WL businesses. P&G's leadership across the board is committed to making progress on gender equality within P&G and with our supply network.  The most recent example was just a couple of weeks ago when Suran Magesvaran, P&G President of AMA, shared bold goals for the region during the virtual #WeSeeEqual summit in partnership with UNWomen.  This included his desire to spend a cumulative total of $200 million with WOB by 2025 across AMA. Learn More.  I am energized by the passion of people like Suran, and many others, to being a Force for Good and a Force for Growth.
Growing P&G's Global Supplier Diversity through Women Owned Businesses
We recognize that many of our EBP's want to join us on our impact sourcing journey but often do not know where to start. For this reason, over the last three years we have been working in partnership with the Women's Forum to establish the Women4Business Daring Circle, which aims to build infrastructure in Europe to help those who want to be more inclusive in their sourcing. One key outcome of our work is the Gender Inclusive Sourcing Tool developed by Kearney.  This digital tool helps a company assess the maturity, reach and impact of their supplier diversity program and inclusive sourcing practices. To learn more about the Daring Circle and the Kearney tool we encourage you to join the next Virtual Forum on March 24th.
Another great example is the work happening to drive diversity across our creative supply chain.  Here we are working to drive accurate and respectful portrayal in our advertising, as well as an equal presence behind the camera with our agency and production partners.  We have made meaningful progress already toward this ambition and will continue to prioritize it until we achieve a supply chain that is representative of the diverse consumers we serve.
Being a Force for Good in support of Women Economic Empowerment
In partnership with WEConnect, we have established a program that helps women entrepreneurs further develop various skills and capabilities. As a result of this academy we have a network of more than 500 WO companies as alumni globally.
Only 2.2% of VC funding is allocated to WL start-ups despite the fact that the ROI from this group is greater than male-only led startups. We strive to change this by being a great partner for WL start-ups. For example, in partnership with Vinetta and PGVentures we are setting up contests and mentoring programs in the US with plans to expand.
I am also proud to share that our commitment to WEE has not gone unnoticed.  In December 2020, P&G won the first ever UNWomen WEPs award (Women Empowerment Principles) in the Leadership category.   This award is a clear recognition of P&G's thought leadership in the gender equality space, and I know we can do more.    
As you consider your gender equality efforts, I hope you will find our work exciting and that it serves as an inspiration of what's possible for your company.  Together, we can make a greater impact in the communities where we operate and live. Thus, my expectation is that each of you have a sound gender equality strategy with aggressive goals and action plans. Please share these plans and progress with your P&G team.  We have resources here who are anxious to engage and support your efforts. 
Lastly, as mentioned last month, we will hold our Citizenship Summit on April 12th, where you will hear more about our work in this area.  I hope to see you there.
Be safe & healthy!

Ana Elena Marziano
Chief Purchasing Officer
Mar 05, 2021