P&G is committed to Being a Force for Good for Our Home
P&G Announces Ambition to Achieve Net Zero Greenhouse Gas Emissions by 2040
External Business Partners,
As a key enabler to P&G's commitment to protect our planet, P&G announced a new, comprehensive plan to accelerate our action on climate change. It includes our ambition to achieve net zero greenhouse gas emissions across our operations and supply chain by 2040. We also shared 2030 interim goals to make meaningful progress by the end of this decade.
P&G's actions on climate began over a decade ago, and we know there is more work to do. Our science-based approach to achieving net zero prioritizes the cutting of emissions across our operations and supply chain, from the sourcing of raw materials down to the transportation of our products to the retailers.
The full Climate Transition Action Plan is available here. It outlines our approach to accelerating climate action and the key challenges ahead.
Our 2030 goals to pace our progress toward net zero include:
Our targets include the carbon footprint of the raw and packaging materials that we buy for use in our manufacturing process. This means that the engagement and commitment from our EBPs is critical to P&G's success in achieving these stretching goals.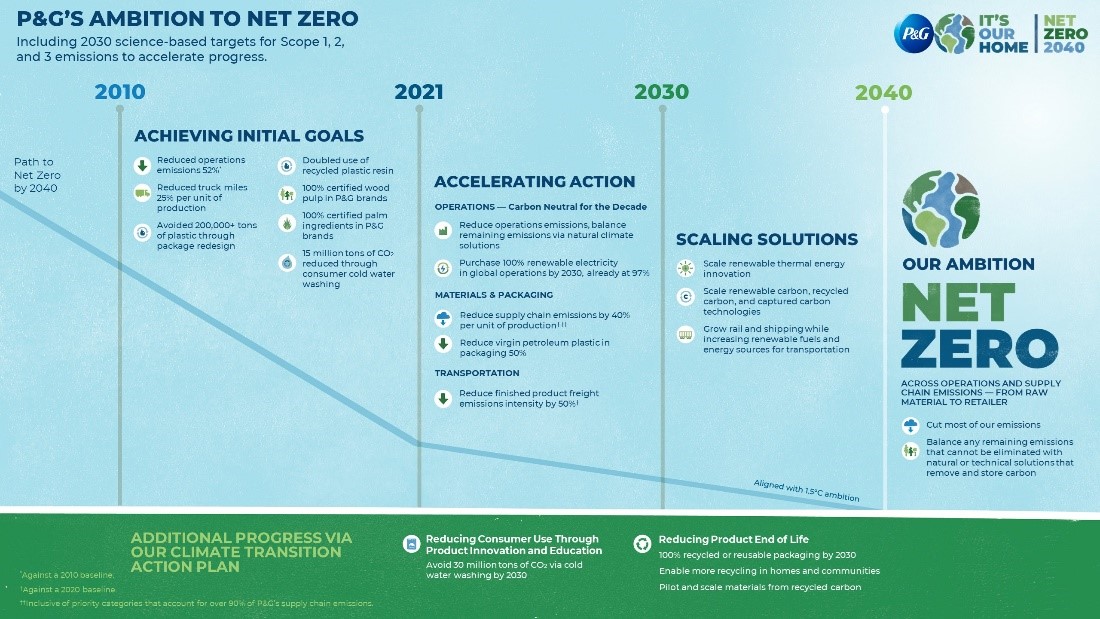 For any residual emissions that cannot be eliminated by 2030, we'll use natural or technical solutions that remove and store carbon.
We're also collaborating with our consumers, brands and partners like you to help create a low-carbon future in our homes and communities. To learn more about our ambition please, take a look at the press release here or our P&G blog here.
To deliver these goals broadly, as with all our Citizenship work, we encourage your company to join P&G's journey to be a Force for Good, Force for Growth by:
Engaging with your company's experts to solidify a strategy that reduces your environmental footprint to leave a positive impact for people & planet
Creating robust action plans to accelerate the reduction of greenhouse gas emissions in your own operations and supply chains
Developing and sharing with us solutions that can reduce P&G's scope 3
Collaborating with us to bring these solutions to life
Our BUs are working over the next six to nine months to set their targets and goals. They will engage with you and further clarify their specific needs and expectations, as focus areas will vary. Please feel free to reach out to your P&G Purchases contact to address any questions you may have regarding today's announcement. As always, we are grateful for your continued partnership.

Ana Elena Marziano
Chief Purchasing Officer
Sep 13, 2021