P&G Q4 and FY 22/23 Earnings Release
Dear External Business Partners,
P&G released fourth quarter and fiscal year 2023 earnings on Friday, July 28, 2023. The April-June quarter provided a very strong finish to the fiscal year, with topline growth, bottom-line growth, and cash generation. For fiscal 2023, we delivered organic sales growth of 7%, currency-neutral net earnings per share growth of 11%, and adjusted free cash flow productivity of 95%. More details are provided in the chart below and in the press release here.
These results are remarkable considering the difficult operating environment and cost headwinds that we've faced. Looking forward to fiscal year 2024, we believe we are well positioned, despite many challenges ahead.
All of you, our External Business Partners, were key contributors to our success, and I'm very grateful for your ongoing support, which has enabled us to deliver sustained strong results – together. Thank you.

The results achieved in 2023 demonstrate the effectiveness of our integrated strategy, with consumers at the center. We will continue our focus on daily use categories where product performance drives brand choice. We will continue to raise the bar on superiority of product, package, communication, retail execution and value. We will deliver ongoing productivity to fuel our growth, lead constructive disruption, and foster an agile and accountable organization – all in pursuit of sustainable, balanced growth and value creation.
Importantly, we're strengthening the execution of our growth strategy in four areas: supply chain 3.0, digital acumen, superior employee value equation, and environmental sustainability. As we've talked in the past, your engagement in environmental sustainability is essential, including our collective efforts to reduce Greenhouse Gas emissions.
Remember, P&G's Climate action plan includes two important 2030 and 2040 milestones: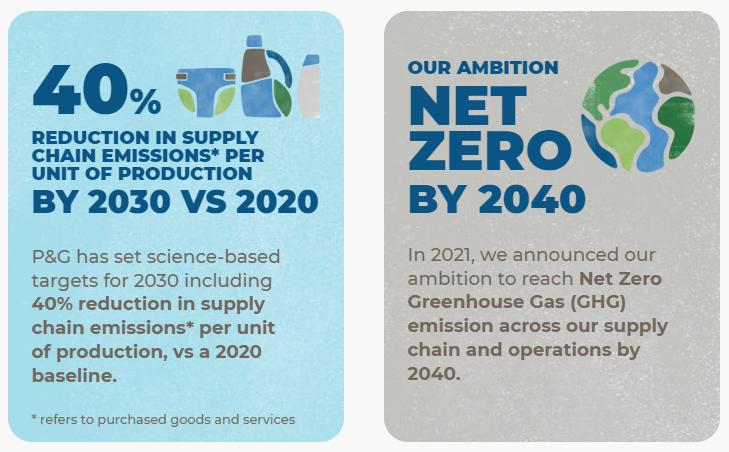 We will deliver on these milestones through collaboration, learning and innovation together with our external business partners. That's why we continue asking for your engagement and active support in three key areas:
Data collection – measure and share your emissions, with accuracy and increasing granularity.
Intentional plans – set your science-based goals to reduce emissions, and share your plans and how they will contribute to our shared objectives.
Partnership – leverage P&G's Climate Unlock program to support your work, and engage our teams to mutually enable our collective emission reduction journey.
You can learn more at PGSupplier.com or by reading our Supplier Greenhouse Gas Reduction Playbook.
As we close the fiscal year and look ahead to what we can accomplish next, I thank you again for your continued partnership.

Ana Elena Marziano
Chief Purchasing Officer
*See P&G's investor website (www.pginvestor.com) for P&G's full Q4 & FY 22/23 earnings release issued July 28, 2023, the associated webcast presentation, definitions of non-GAAP measures and reconciliation to the most closely related GAAP measure, as well as cautionary information on forward-looking statements, which are based on current assumptions and subject to risks and uncertainties that may cause actual results to differ materially
Aug 03, 2023