P&G is committed to providing products and services of superior quality and value to the world's consumers, now and for generations to come. Our Citizenship framework is how we are investing in the United Nations Sustainable Development Goals and include focused programs in Diversity & Inclusion, Gender Equality, Sustainability, Community Impact and Ethics & Corporate Responsibility. 
P&G cannot deliver those products without collaboration from our supply chain partners and we are making intentional choices to leverage the footprint of our suppliers, buyers, and manufacturing sites to be a Force for Good and a Force for Growth. From transparent sourcing practices that aid consumer decision-making to growing shareholder value through innovation-driving programs like global supplier diversity, P&G is proud to be a leader in supply chain responsibility. We believe we can accelerate and amplify our Citizenship results by intentionally enrolling our External Business Partners in this work via two strategy pillars: Supplier Diversity and Responsible Sourcing.
Responsible Sourcing: We hold ourselves and our partners to a high standard therefore we have created Responsible Sourcing Guidelines. They explain the global standards to be followed in your daily business activities on behalf of P&G. There are many other tools available for Suppliers to progress in each area, click on box below to learn more.
Supplier Diversity: Since 1976, our Supplier Diversity program has been awarding contracts to women and minority-owned businesses – including military veterans, people with disabilities, and LGBTQ owners. When our Supply Network reflects the diversity of our consumers, employees, and stakeholders, our community thrives. We also encourage all suppliers to have their own Supplier Diversity and tools are available by clicking on box below.
Feel free to reach out to P&G's Supplier Citizenship Team for any help or questions via citizenship.im.1@pg.com
Helpful Links:
What is Citizenship?
Want to be a P&G Supplier?
P&G's Citizenship Report
P&G's Chief Purchasing Officer talks about Supplier Citizenship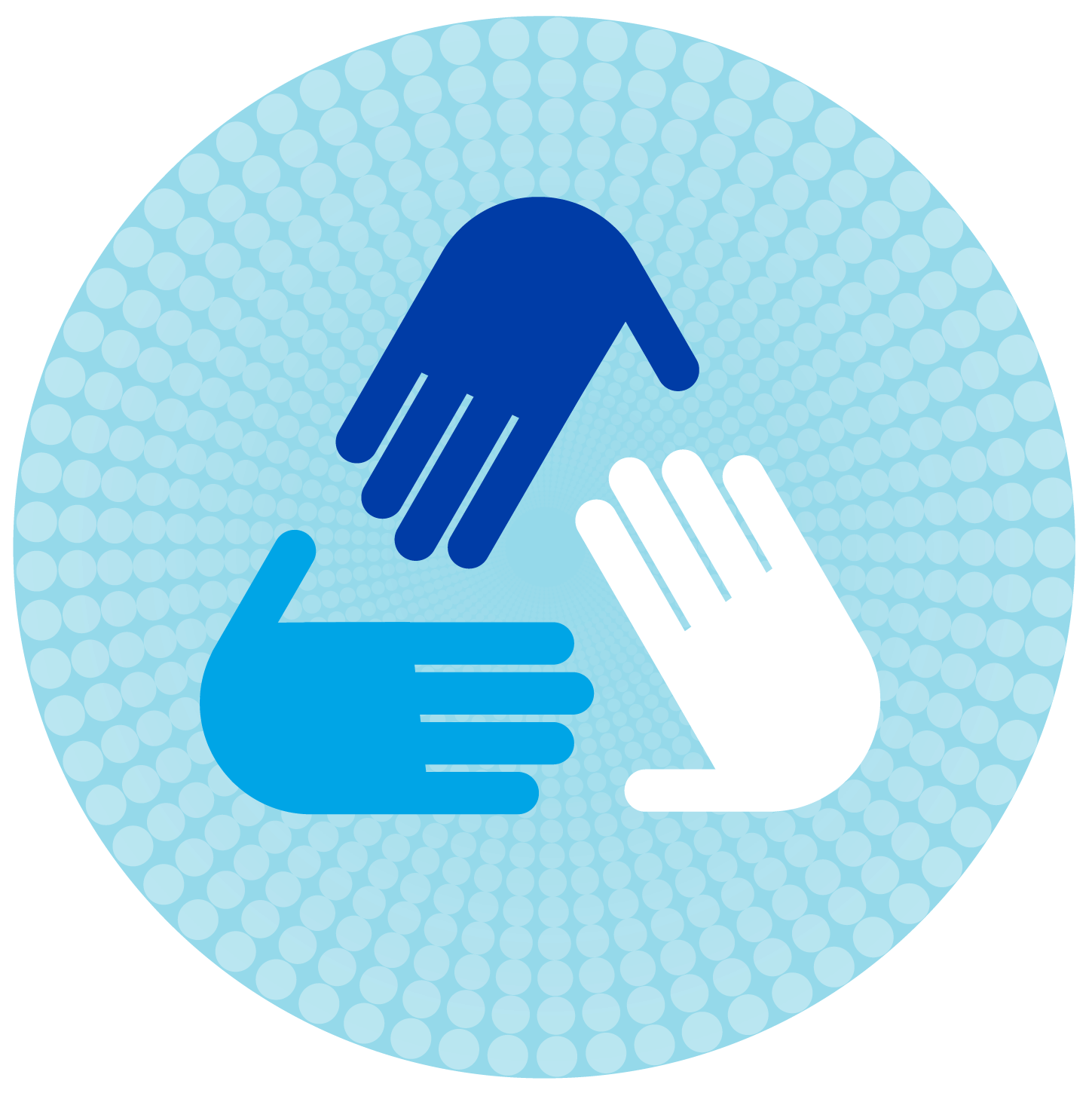 Citizenship Survey
Annual Supplier Citizenship Survey:
Every year P&G Purchases grows the number of suppliers completing our Supplier Citizenship Survey. We want to collaborate across our company's 5 Citizenship Areas including Ethics & Corporate Responsibility, Community Impact, Diversity & Inclusion, Gender Equality and Environmental Sustainability. The survey requests information that P&G tracks internally, reports externally and where we can drive improvements for our business. If your company has completed the survey, we thank you. If you are a new supplier that would like to participate let your supplier relationship owner know. You can download a list of the questions here.
Please review the infographic below for highlights from the last survey results.
Virginie Hellas, P&G Chief Sustainability Officer Talks about P&G commitments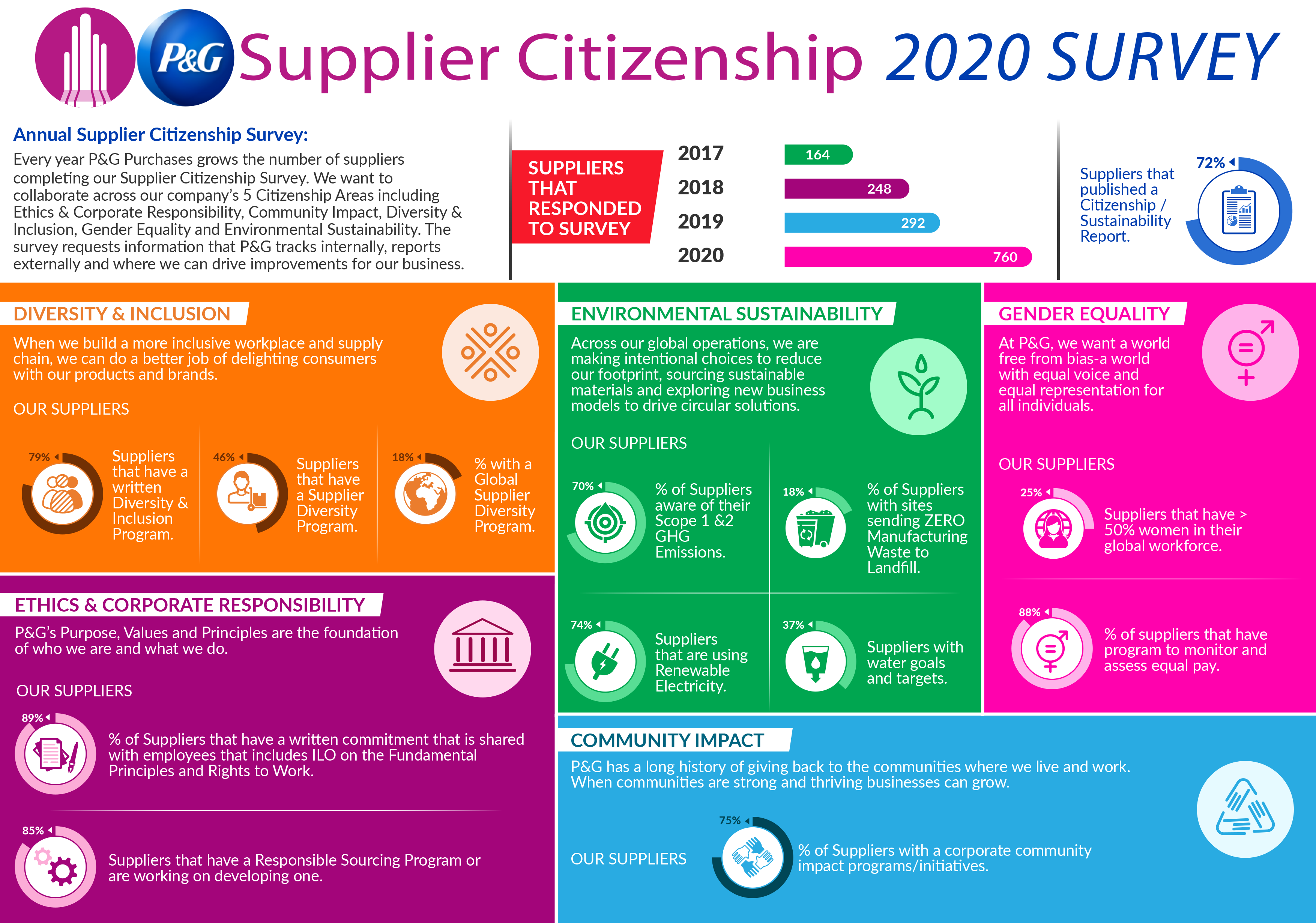 Responsible Sourcing
P&G is committed to touching and improving lives in a way that preserves and protects the planet. We have established a long-term vision and short-term goals to ensure we stay on track to deliver this commitment, and our Suppliers are critical enablers in this journey. P&G is devoted to operating sustainably and we expect our External Business Partners to operate in a way that meets the guidelines we have established and the spirit of sustainability.
You can access our Responsible Sourcing Expectations by clicking here.
These guidelines are meant to share P&G's expectations of all our Suppliers. As we hold P&G people to a high bar, we also want to ensure our partners are operating at the same level. If you have any questions of concerns about meeting these guidelines, please engage with your contact at P&G.
P&G's Social Audit Program is one tool available to our business partners to help develop and verify good Human Rights practices. You can learn more about the program and how to get started by downloading the compliance guide here.
Our Supplier Citizenship Summit focused on Sustainability had tremendous speakers sharing P&G's journey in this space, as well as external partners that are helping us drive the work forward. Please enjoy some of the speakers in the videos below.
Resources, Highlights & Helpful Links:
ACTIVATE Series with Global Citizen: Responsible Sourcing
What is the Head & Shoulders Eco-Bottle?
P&G's Citizenship Report
Learn more about Ambition 2030
P&G & SEDEX Social Audit Program for EBP's
French Undeclared Labor
Virginie Helias presents P&G's Ambition 2030
Intro & Shailesh Jejurikar discusses Sustainability at Scale
James McCall analyzes What's Next for P&G and Suppliers
Supplier Diversity
P&G's Supplier Diversity efforts began in 1976 and began a formal 2nd Tier program in 1996. Since 2007, P&G spends more than $2 billion with diverse-owned businesses every year. Given this high level of achievement P&G is a member of the Billion Dollar Roundtable, a forum of companies spending more than $1 billion annually with diverse suppliers. Below you can find more information about our tracking process, resources to help your company build a Supplier Diversity program, and the councils we partner with to accomplish our goals.
Diverse Supplier Definition
U.S. Only 
In the US we recognize certified businesses that is at least 51% owned, operated and controlled by a United States citizen who is an ethnic minority, women, LGBTQ+, Veteran or Person with Disability as part of our Supplier Diversity program.
Globally
Outside the US, we are now tracking a for-profit business, headquartered outside of the U.S., that is at least 51% owned, operated and controlled by a woman as part of our Global Supplier Diversity program, both 1st and 2nd tier. P&G is also starting to track companies with women leaders, such as CEOs.
Exponential Business Value:  A diverse supply network will out-think, out- innovate, and out –perform a non-diverse supply network. Our diverse supplies are more agile, responsive, innovative, more likely to hire a diverse pool of employees and give back to their community.  
1st Tier Supply Chains- Growing 1st Tier spend can only be reported when P&G buys directly from diverse-owned companies. We expect these businesses will provide best value to P&G. 
2nd Tier Supply Chains- Growing 2nd Tier spending occurs when our non-diverse suppliers purchase from diverse suppliers on our behalf. To help our suppliers develop their own Supplier Diversity program and grow P&G's 2nd Tier spending, we have developed a Toolkit, which you can download here.
Resources:
If you want to share P&G's Supplier Program with your colleagues – please download this document.
If your company is looking to start or grow a Supplier Diversity program, there are several resources available at our Partner's websites below.
How to do business with P&G? Access the registration page by clicking here. 
To learn more about P&G's Take On Race, please visit our corporate site: https://us.pg.com/take-on-race/
National Minority Supplier Development Council (NMSDC) and Ohio Minority Supplier Development Council (OMSDC),Ethnic Minorities
Women's Business Enterprise National Council (WBENC) and Women's Business Enterprise Council Ohio River Valley (WBEC-ORV) ,US - Based Women
WEConnect International , Non -US Women
Disability:IN,People with Disabilities
National Veterans Business Development Council (NVBDC) ,US Military Veterans
National LGBT + Chamber of Commerce (NGLCC) and Civitas (Ohio River Valley LGBT + Chamber of Commerce), LGBT +